---
---
Our sod products include Centipede, Tifton 419 Bermuda, Tifdwarf Bermuda, Geo™ Zoysia, Empire™ Zoysia, Meyer Zoysia. We can also provide other types, such as St. Augustine upon request. Here is a guide to selecting the variety which is best for you:
Simplified Zone Hardiness Map: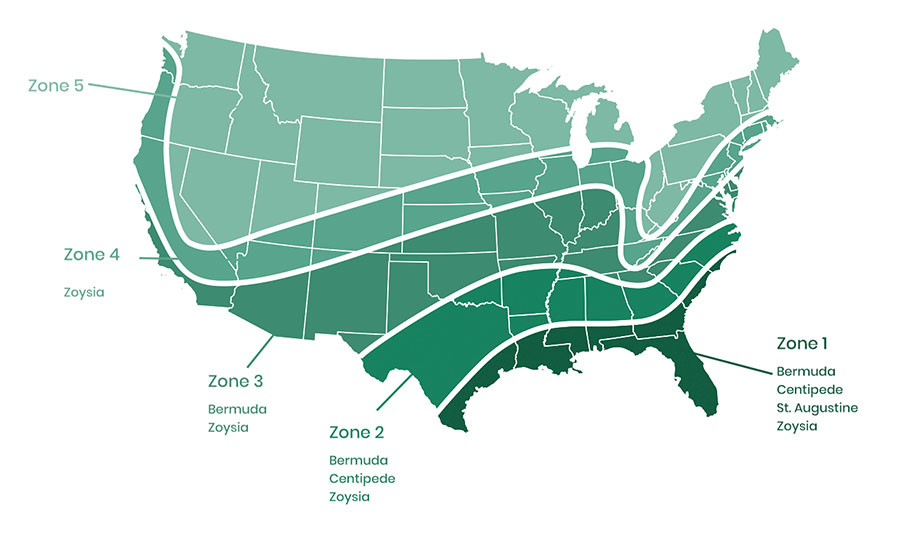 Centipede: A warm season, thick sod forming, uniform growing, and medium to light green colored grass. It is a slow growing, creeping grass with short stems growing upward. This makes it resemble a centipede insect and is why it got its name. Centipede is probably the lowest maintenance of the warm season grasses.
Tifton Bermuda (419): Bermuda grass is one of the most sun loving of the warm season lawn and pasture grasses. Tifton is darker green and slightly coarser than other Bermuda varieties, produces an extremely dense turf. Once established Tifton 419 Bermuda requires a little more fertilizer and mowing than other warm season grasses, but is very fast to root and spread rapidly.
Empire™ Zoysia: EMPIRE was discovered in Brazil, and unlike other Zoysia varieties, has proven its ability to thrive in hot, humid conditions. EMPIRE has performed well in sandy and clay soil types with aggressive growth from its runners and rhizomes, but can be mowed with a standard rotary mower due to its broader leaf and open growth habit. It requires less maintenance and mowing than other grasses such as Fescue or Bermuda.
Geo Zoysia: A cross between Meyer Zoysia (Japonica) and Emerald Zoysia (Tenuifolia). Craft Turf Farms has been growing Geo since 1987 and have been very pleased with its performance. It has a dark green color, medium leaf texture, is more shade tolerant than other zoysia's and is extremely wear tolerant. Because of its strong, consistence performance Craft Turf Farms is convinced that Geo is the best turf grass for our market area. Please call our office for more information on Geo.